Welcome to Latah Creek Family Dentistry- 4 Spokane Dentist Offices to Serve You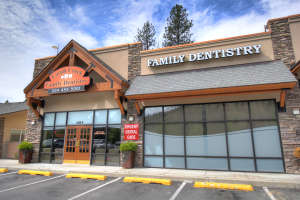 All dentist offices treat your teeth, but not all dentist offices treat the whole person. At Latah Creek Family Dentistry, our focus is making your family's dental experiences as convenient and enjoyable as possible in the Spokane area.  Our Advanced Cosmetic & Laser Dentistry technology is for the entire family.
At Latah Creek Family Dentistry, we take care of the whole person, from insurance to health services. Our long-time clients attest that we put our patients' needs above all else.
Hassle-Free Service
We work with anyone, from small children to grandparents. You'll find the dental service you're looking for, whether it's general dentistry, cosmetic dentistry, or emergency care. We also use the latest technology to provide advanced dental treatments.
Convenient Hours
We're here when you need us. Our offices are open six days of the week, with Saturdays open for those who aren't available on weekdays. We also offer same-day emergency care.  If you are looking for a convenient dentist in Spokane, give us a call!
Easy-to-Find Locations
We have  four-offices in the Spokane and Spokane Valley area, and two of them are right off the interstate. When you set an appointment, it is recorded at all three locations, so you can visit a different office for your appointment if necessary.
Call us today for your next dental appointment. If it's an emergency, call our Spokane, WA dentistry office and we can arrange a same-day appointment.